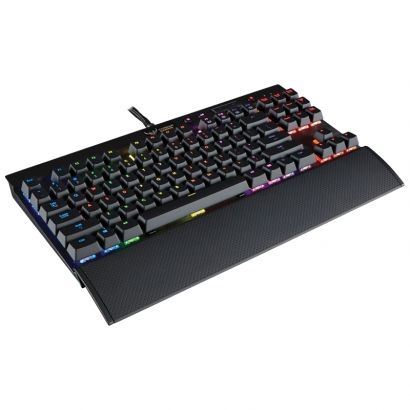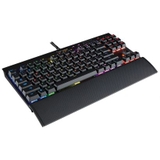 Bàn Phím Cơ Corsair K65 RGB
Legendary performance and unlimited customization, now in a compact size.
The Corsair Gaming K65 RGB is a compact high-performance mechanical gaming keyboard for travelling gamers or anybody who wants more room to move their mouse more freely. The full-size key spacing won't throw you off your game, and the Cherry MX RGB key switches and 100% anti-ghosting with full key rollover on USB give you fast, accurate response.
In US: Corsair Gaming K65 RGB exclusively sold at Best Buy stores and bestbuy.com
Multi color, per key backlighting for virtually unlimited customization
Every one of the keys can be assigned a unique backlighting color. This gives you opportunities for key binding that you've never seen before in a mechanical keyboard.
100% Cherry MX Red Key Switches
Cherry MX Red key switches deliver smooth, linear key response with a wide actuation zone. They have the responsiveness you need for perfectly executing double and triple taps, and there's no audible click or tactile "bump."
No ten-key means more room
Unless you're spending hours a day entering numbers into spreadsheets, you'll appreciate the extra space you get. The shorter dimensions make it fit more easily into backpacks and messenger bags, and when it's at your desk, you'll have more flexibility in placing your mouse mat and moving your mouse.
---
Features
Aircraft-grade black anodized brushed aluminum
You get impressive looks, light weight, and the rugged durability you need for a keyboard that's going to see a lot of action.
100% anti-ghosting with full key rollover on USB
Every keystroke translates into accurate gameplay—even when multiple keys are pressed. There's no signal degradation, and it keeps up with you, no matter how fast you play.
Detachable soft-touch wrist rest
Give your wrists a break, or remove it if it gets in the way.
Just one more reason why the K65 RGB is one of the most advanced gaming keyboards the world has ever seen – you can set up any key to trigger a macro. The all-new Corsair Utility Engine (CUE) makes it easy. FPS, MOBA, or even Minecraft… the K65 RGB has it covered.
Fast and fluid RGB animation
The K65 RGB uses a Panasonic display controller for an amazing multicolor light show in a pulsing, waving and cascading array.
Onboard memory to take performance and lighting settings with you
Do you take your gaming to go? Built-in storage lets you set it up once, and take it anywhere.
Easy-access dedicated multimedia controls
You don't just play games – you play music and video, too. Play, stop, pause, skip tracks and adjust volume directly from the K65 RGB.
---
The power of CUE
The K65 RGB can have each key assigned its own unique backlighting color and intensity for virtually unlimited customization. When the action is fast and furious, microseconds count, and multicolor key bindings can put you in control of your game like never before. The intuitive and powerful Corsair Utility Engine (CUE) software makes it easy to set up sophisticated animated macros and lighting effects for a visually amazing experience.
Static lighting
Change any key on the keyboard to a color and brightness setting of your choice.
Color cycling
Cycle through multiple colors with your choice of speed and color palettes. You can set either the whole keyboard to scroll, or just the keys you want.
Waves and ripples
Customize the color palette, direction, duration, and velocity, and have the wave flow across the entire keyboard, or just the keys you want.
Reactive typing
Set up single-key reactive typing, or create a multi-key ripple effect. You can choose single-layer lighting, where keys light up as you type, or multi-layer, and have the keys change color.
---
Contents and Specifications
Package contents
Corsair Gaming K65 RGB Compact Mechanical Gaming Keyboard
Soft touch, detachable wrist rest
Warranty card
Compatibility and System Requirements
PC with 2 USB 2.0 ports
Windows 8, Windows 7, or Windows Vista
An internet connection is required to download the Corsair Utlity Engine software
Technical specifications
100% Cherry MX Mechanical keyswitches
32-bit ARM Processor
Panasonic display controller
Up to 1000 Hz USB report rate

Selectable 8ms, 4ms, 2ms, 1ms, and BIOS mode